OPMC: Lumieres celestes
Venue: Auditorium Rainier III
Symphonic concert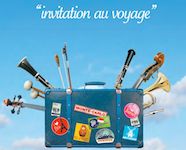 A performance by Monte Carlo Philharmonic Orchestra conducted by Juraj Valcuha, with the Slovak Philharmonic Choir led by Jozef Chabron, and featuring soprano Erika Sunnegardh, mezzo-soprano Julia Gertseva, bass-baritone Peter Mikulas, and tenor Ludovit Ludha. The program includes Leos Janacek's Glagolitic Mass, and Rachmaninov's Symphonic Dances op 45.
tickets 17, 26, 35, and 50 euros
reduced price seats for students
reductions for groups of 10 or more
season tickets available
One of Monte Carlo Philharmonic Orchestra's 2017-2018 Grande Saison series.
Preceding the concert, at 17:00, a French language introduction to the work by Andre Peyregne, Director of the Conservatoire a Rayonnement Regional de Nice. Free entry for ticket holders.
For a full program visit the orchestra's website at: OPMC concerts: saison 17/18. For information, reservations and tickets, phone +377 98 06 28 28 and visit the venue ticket office.