OPMC: Les Aventures de Charlot
Venue: Auditorium Rainier III
Film with live music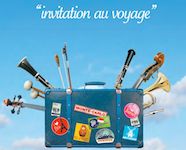 Screening of two 1917 Chaplin short movies: The Adventurer, and The Immigrant. Pianist Paul Lay improvises the backing music.
tickets 12 euros
suitable for children aged +7
Part of Monte Carlo Philharmonic Orchestra's 2017-18 season.
For a full program visit the orchestra's website at: OPMC concerts: saison 17/18. For more information phone +377 98 06 28 28 and visit the venue ticket office.