OPMC: Musique francaise
Venue: Eglise Saint Charles
Spiritual music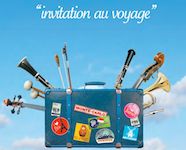 A concert of early 20th century French music performed by harpist Xavier de Maistre. Works by Debussy, Renie, Ravel and Faure.
free entry
limited seating
One of 3 performances of spiritual music in the Monte Carlo Philharmonic Orchestra's 2017-18 season.
For a full program visit the orchestra's website at: OPMC concerts: saison 17/18. For information phone +377 98 06 28 28.