OPMC: Carte blanche a Xavier de Maistre
Venue: Salle Garnier: Opera House
Harp recital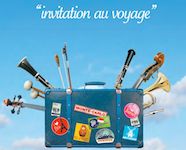 A performance by Monte Carlo Philharmonic Orchestra harpist in residence Xavier de Maistre and featuring Lucero Tena on castanets. The program includes music by Isaac Albeniz, Granados, Mateo Albeniz, Tarrega, De Falla, Lopez Chavarri, Malats, Lecuona, Guridi, Soler, and Gimenez.
tickets 20, 30, and 40 euros
reduced price seats for students
reductions for groups of 10 or more
season tickets available
One of Monte Carlo Philharmonic Orchestra's 2017-2018 Grande Saison series.
For a full program visit the orchestra's website at: OPMC concerts: saison 17/18. For information, reservations and tickets, phone +377 98 06 28 28 and visit the venue ticket office.
Invitation to CREM
Members of the Club des Residents Etrangers de Monaco are invited to the concert.
tickets 40 euros pp
RSVP before 29 Jan
10 tickets available
prepayment required
For more information email info[at]crem.mc or phone +377 97 98 01 77.