OPMC: Printemps des Arts
Venue: Auditorium Rainier III
A Printemps des Arts 2018 festival concert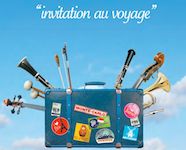 A performance by Monte Carlo Philharmonic Orchestra conducted by Christian Arming. The program includes two works by Charles Ives: Three Places in New England, and Universe Symphony.
tickets 26 and 35 euros (to be confirmed)
13-25 years 10 euros, under 12s free
The event forms part of the Printemps des Arts 2017 festival, and is one of Monte Carlo Philharmonic Orchestra's 2017-2018 Grande Saison series. For a full program visit the orchestra's website at: OPMC concerts: saison 17/18.