Opera: Gala d'ouverture 2017-18
Venue: Salle Garnier: Opera House
Opening gala of Opera Monte Carlo's 2017-18 season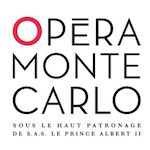 A performance of Presque Rien, choreographed by Jean-Christophe Maillot of the Ballets de Monte Carlo, and a selection of arias from Russian operas performed by the youth of the Academie Lyrique of the Opera Monte Carlo. Kira Parfeevets plays piano.
The performance is followed by a cocktail dinner and a ball in the casino atrium.
performance only, tickets 50 euros
late arrivals will be excluded until the interval
performance, cocktail and ball, 1000 euros
dress code for the ball is white tie / red evening gown
Organized for the benefit of the Opera and Ballets, with the support of the Association des Amis de l'Opera and the Association des Amis des Ballets de Monte Carlo.
Part of the Ballets and Opera de Monte Carlo 2017-18 season. For more information visit the website: Opera Monte Carlo: 2017-2018.
Tickets available to the public by phoning +377 98 06 28 28, at the casino atrium ticket office, and by visiting the website: Opera Monte Carlo: reservation en ligne.