Big Brother et moi, et moi et moi
Venue: rue Princesse Caroline
5th edition of outdoor exhibition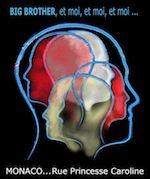 From 14 September to 27 October, on pedestrian street rue Princesse Caroline, 13 sculptors and modellers of the Artistes en Mouvement association present a street exhibition of artworks on the theme "Big Brother et moi, et moi, et moi" (Big Brother and me, and me, and me).
14 September, 18:00, official opening
free entry, open to the public
The artists are: Caterina Aicardi, Maria Amos, DeDomenico, Pascale Dieleman, Do Benracassa, Karen Finkelstein, Galka, Helena Krajewicz, Alain Lapicore and Aleksandra Lawicka (AL2), Caroline Rivalan, Rob Rowlands, and Franz Stahler.
For more information email aem[at]monaco.mc and visit the organizer's website at: AeM Artistes en Mouvement.