Festival for the Earth 2017
Venue: Oceanographic Museum
Conferences and round tables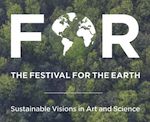 On 9 and 10 November the 2nd edition of the Festival For The Earth - Sustainable Visions in Art and Science. The 2-day event features scholars, researchers, creative minds and environmental activists presenting and discussing their work in finding ways to preserve the earth's diversity and ecosystem. The aim is to raise awareness on how to co-exist and interact with nature.
Program overview:
9 Nov
11:00, opening ceremony
11:30, The Nature of Life by Ignace Schops
15:00, Green Finance and Climate Finance: Tools and Opportunities by Carlo Carraro
16:30, Aquatic Technology round table with Benedetto Costa Broccardi, Lucy Gilliam, Luisa Pistelli and Elisabetta Princi
10 Nov
11:00 Amazonia, video projection by Mario Petrucci
11:30, Bringing Science into Society's Conversation by Nancy Baron
15:00, Energy round table with Patrice Garnier, Michael Magri and Sergio Tommasini
17:00, Altered Oceans by Kenneth Weiss
17:30, video message by Ryuichi Sakamoto, and Interactive Water Installation by Giuseppe La Spada
Free tickets
for all events are available from Eventbrite at:
Eventbrite: Festival FOR the Earth
.
Organized by Mbrart and Ca' Foscari University of Venice. For more information visit the event website at: Festival for the Earth.