Quelque chose comme le dessin
Venue: Galerie l'Entrepot
Art project exhibition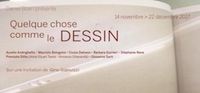 From 14 November to 21 December, an art project conceived by Gino Gianuizzi. The exhibition pays particular attention to drawing, the base from which an artist develops work. Each artist whose work is displayed has a personal approach to drawing and the public is invited to take time to contemplate the items, which are not simply hung on the walls, but take the form of sketchbooks, objects and projections.
14 Nov from 18:30, exhibition launch
The gallery is open exceptionally during the exhibition on 2 and 16 December.
For more information visit the venue's website at: l'Entrepot.