Handel's Messiah
Venue: Saint Paul's Anglican Church
Oratorio performance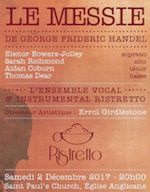 Ristretto choir and orchestra led by Errol Girdlestone perform Handel's great work, The Messiah, with:
soprano Elenor Bowers-Jolley
alto Sarah Richmond
tenor Aidan Coburn
bass Thomas Dear
Tickets 30 euros
available on the door or from Fnac or Carrefour.
Organized in collaboration with the Association Musique de Chambre Monaco led by Pauline Litvin. For more information contact the organizer on 06 43 91 67 43 and info[at]musique-de-chambre.org, or the venue at info[at]stpaulsmonaco.com.