Seasons of Russian Gastronomy 2018
Venue: Several places in Monaco
Russian culinary and cultural festival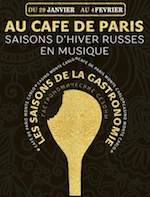 From 30 January to 4 February, a festival celebrating Russian culture through food.
30 Jan at Cafe de Paris, opening dinner with music performed by Moscow's Romen Theatre artists
1 Feb at Monte Carlo Casino, black-tie gala dinner
Organized by Natalia Marzoeva of Russian-French Gastronomic Seasons, in cooperation with Monte Carlo SBM. For more information visit the organizer's facebook page at: Saisons de la Gastronomie Franco-Russe.