Spring arts: jeunes talents
Venue: Monaco Boat Service
A Printemps des Arts 2018 festival concert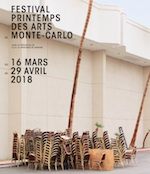 In the Riva Tunnel, a concert featuring new talents. Tickets 26 euros. Program:
Portrait Yan Maresz, performed by students of the Academie Rainier III and regional conservatories
pianist Jean-Paul Gasparian performs:
Brahms, 7 Fantaisies op 116
Mozart, Sonatas nos 18 K576, and no 8 K310
Messiaen, Vingt regards sur l'enfant Jesus
For a listing of all Printemps des Arts 2018 events, visit our page: Printemps des Arts 2018 and for more information about the event visit the website: Festival Printemps des Arts de Monte Carlo.