Monaco Music Forum 2018
Venue: Parking des Pecheurs
A Printemps des Arts 2018 festival concert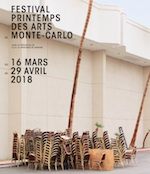 An afternoon of musical discovery, with the Ensemble C Barre, and the participation of students of Academie Rainier III. Tickets 26 euros. Program:
Charles Ives, From the steeples and mountains for brass and bells
Performance, by juggler Alexander Koblikov
Yan Maresz, Sul Segno for harp, guitar, cymbals, double bass and electronics
Charles Ives, various marches
Performance
Vincent Carinola, Toucher for theremine
Frederic Pattar, Mind breaths for instrumental ensemble
Karlheinz Stockhausen, Oktophonie
For a listing of all Printemps des Arts 2018 events, visit our page: Printemps des Arts 2018 and for more information about the event visit the website: Festival Printemps des Arts de Monte Carlo.