70 Years of Monaco Red Cross
Venue: Salle d'Exposition du Quai Antoine Ier
Celebratory exhibition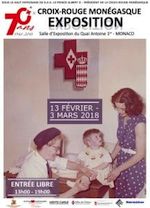 From 13 February to 3 March, an exhibition charting the activity of Monaco Red Cross over 70 years with photographs, videos, artefacts and artwork.
free entry, open to the public
Tue-Sun, 13:00-19:00
Several events are planned throughout 2018 to celebrate the 70th anniversary of the Croix Rouge in Monaco.
For more information visit the organizer's website at: Croix-Rouge monegasque: exposition.