Rencontre Artistique Monaco Japon 2018
Venue: Auditorium Rainier III
12th edition of art exhibition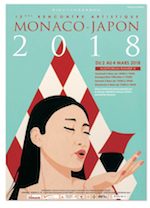 From 2 to 4 March, the Rencontre Artistique Monaco Japon is a collective exhibition of work by Japanese and Monegasque artists:
free entry
Friday
14:00-19:00
17:00, official opening
Saturday, 11:00-19:00
Sunday, 11:00-19:00
Includes work by artist members of Reijinsha, and the Comite National Monegasque of the Association International des Arts Plastiques (AIAP) at UNESCO. During the weekend several events are organized by the Monaco et Fleurs Japon group.
The event represents an ongoing cultural exchange between Japan and Monaco that has existed for several years. For more information visit the artists' website at: Comite National Monegasque de l'AIAP.
Organized by the Direction du Tourisme et des Congres de Monaco and the Direction des Affaires Culturelles. For more information phone +377 92 16 61 66.