Earth Hour 2018
Venue: Several places in Monaco
Action to save energy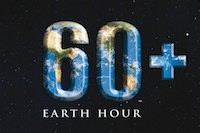 At Prince Albert's request, companies and individuals are encouraged to turn off lights and non-essential electric equipment between 20:30 and 21:30. Related events, to be confirmed:
Stars n Bars, turning off lights and tv screens
Meridien Beach Plaza, turning off lights
Elsa restaurant, 5-course organic dinner by candlelight, 130 euros pp, phone +377 98 06 50 05
Initiated by the Word Wide Fund for Nature (WWF) in 2007, Earth Hour promotes energy economy and reducing gas emissions in order combat climate change.
The event is supported by the Monaco Government and Fondation Prince Albert II de Monaco (FPA2), and lights will be switched off in the Prince's Palace, government and administrative buildings.
For more information visit the event website at Earth Hour.