Maria By Callas
Venue: Grimaldi Forum
Exhibition and film screening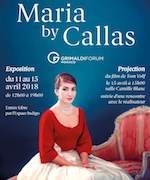 From 11 to 15 April in the Espace Indigo, an exhibition tribute to opera star Maria Callas on the 40th anniversary of her death.
free entry, open to all
daily, 12:00-19:00
The exhibition includes photographs, archives and films from the years 1960-67, when the singer lived in Monaco with Onassis. Items have been collected from Monegasques institutions such as the Opera, SBM, Archives Audiovisuelles, and the Palace. Read maBoum's review of the exhibition here:
Greece's Got Talent
.
Tom Volf, author of two books about the singer, and whose idea prompted the exhibition and a film, is attending.
15 Apr at 15:00 in Salle Camille Blanc, screening of film by Tom Volf