30/70
Venue: Note Bleue
Live jazz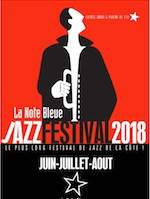 In the jazz lounge, two performances, on 20 and 21 July, by Melbourne jazz collective 30/70.
free entry
21:00-midnight
Thirty/Seventy are Allysha Joy on vocals, Ziggy Zeitgeist on drums, Henry Hicks on bass, Thomas Mansfield on guitar, Jarrod Chase on keyboards, Joshua Kelly on sax and Tiaryn Griggs on BVs. They perform a mix of boom-bap and neo-soul, with jazz-funk and spiritual influences. The Monaco gig is part of a tour to promote their latest EP Elevate.
For more information and to reserve a table, phone +377 93 50 05 02, email programmation[at]lanotebleue.mc, and for full program visit the venue website at: La Note Bleue: festival.