Hyleen: B-Side release party
Venue: Note Bleue
Live soul jazz funk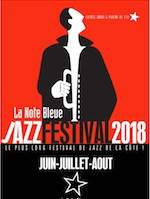 In the jazz lounge, two performances, on 31 August and 1 September, by singer and guitarist Hyleen, closing the Note Bleue summer jazz festival.
free entry
21:00-midnight
Hyleen is accompanied by Nicolas Viccaro on drums and Julien Boursin on keyboards. The are performing tracks from the forthcoming album B-Side, to be released on La Note Bleue Productions label.
For more information and to reserve a table, phone +377 93 50 05 02, email programmation[at]lanotebleue.mc, and for full program visit the venue website at: La Note Bleue: festival.