OPMC: l'age du Baroque
Venue: Salle Garnier: Opera House
Symphonic concert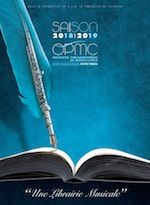 A performance by Monte Carlo Philharmonic Orchestra conducted by Ton Koopman and featuring Avi Avital on mandolin. The program includes music by Rebel, Vivaldi, CPE Bach, Hummel, and JS Bach.
tickets 20-40
reduced price seats for students
reductions for groups of 10 or more
season tickets available
One of Monte Carlo Philharmonic Orchestra's 2018-2019 Grande Saison series of concerts.
For a full program visit the orchestra's website at: OPMC: nos concerts saison 18/19. For information, reservations and tickets, phone +377 98 06 28 28 and visit the venue ticket office.