Halloween 2018 @ Jardin Exotique
Venue: Jardin Exotique
Party for older children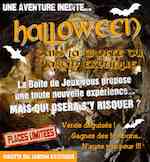 In the area around the Grotte de l'Observatoire, a party for children over 10 who attend school in Monaco, including music, activities and more. Participants are welcome to attend in fancy dress.
free entry with registration
18:00-20:00
limited numbers
NOTE: entry to garden from boulevard de Belgique
Organized by Boite de Jeux and the Mairie. For more information and registration phone +377 93 15 29 80 and email jardin-exotique@mairie.mc.