Monaco versus Bruges
Venue: Stade Louis II
UEFA Champions League match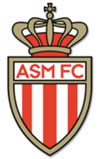 Home game for Monaco's soccer team competing in Group A of the UEFA Champions League. This is group stage matchday 4. Tickets from 45 euros, only available from the ticket office at the venue.
Monaco drew 1-1 away to Bruges on 24 October.
For more information about the UEFA Champions League, visit the organizer's website at: UEFA Champions League.
For a full list of AS Monaco's fixtures, including away games, visit the club website at: AS Monaco Football Club: fixtures and results.