Above and Beyond: NASA's journey to tomorrow (2018)
Venue: Auditorium Rainier III
Monaco premiere of documentary movie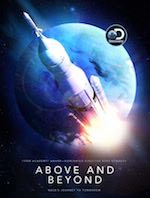 Marking NASA's 60th anniversary, an English language movie screening (VOSTF) followed by a panel discussion entitled Pioneers and Innovators of Our Time, with astronauts, space and aviation specialists and crew from the Columbia Space Shuttle. Free and open to the public, reservation essential on +377 93 10 40 61 and at eticket[at]monacomediax.com.
The film celebrates NASA's accomplishments and shows viewers its future course. It examines how NASA has changed our vision of the universe, our planet, and ourselves.
Director: Rory Kennedy
Genre: Documentary
Running time: 1h30
More details: Above and Beyond (www.IMDB.com)
For more information visit the organizer's website at:
Monaco Events USA: Pioneers and Innovators of Our Time
.