Olivia Brazier: Les Pecheuses
Venue: Galerie des Pecheurs
Art exhibition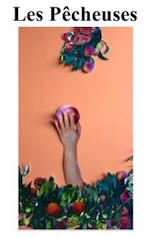 From 16 November to 30 January, local artist Olivia Brazier is displaying a number of paintings on the theme "Les Pecheuses". Olivia works predominantly in collage and painting. She explores how language compares the female body to food.
For more information visit the artist's website at
Olivia Brazier
.
Check out our review of the exhibition here: maBoum blog: A Peachy Exhibition, and of Olivia's previous show here: maBoum blog: Fruit Drawers.