Monte Carlo Gastronomie 2018
Venue: Espace Fontvieille
23rd edition of annual gastronomic food and drink fair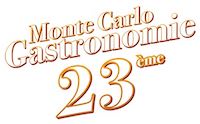 From 23 to 26 November the Salon Monte Carlo Gastronomie offers tastings and cooking demonstrations with leading chefs of Monaco and the Cote d'Azur. The event provides an opportunity to prepare for the festive season.
Fri-Sat, 10:00-21:00
Sun-Mon, 10:00-19:00
entry 5 euros, under 12s free of charge
free entry for all Fri-Sat 19:00-21:00 and Sun-Mon 12:00-14:00
Includes the Maestro Chef competition.
Organized by Promocom Groupe Caroli. For more information visit the event website at: Monte Carlo Gastronomie.