La Spirita
Venue: Musee de la Chapelle de la Visitation
Concert of Baroque music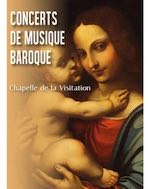 A concert of Baroque music by the Societe de Musique Ancienne:
Marie-Claire Bert and Michel Quagliozzi on recorders
Sibylle Schultz-Carriere on viola da gamba
Etienne Mangot on viola da gamba and cello
Camille Mugot on harpsichord
Michaela Chetrite on organ
The program includes music by 14th century composers that celebrates the Virgin Mary and the Nativity.
Organized by the Direction des Affaires Culturelles. For more information phone +377 98 98 83 03 and visit the Government news feed at: Communique de presse: concerts de musique baroque.