Mothers of Africa Christmas Market 2018
Venue: Saint Paul's Anglican Church
Festive sales for charity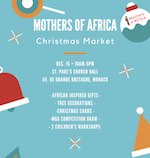 From 10:00 to 17:00, in the church hall, a Christmas market selling African inspired gifts, tree decorations and Christmas cards. There is also a raffle and two children's workshops.
workshops from age 5, 10 euros per child
10:30-12:00, Mariote e Gali, Monegasque Christmas tradition
14:00-16:00, Aunty Dawn's drop in Christmas card workshop
To reserve a workshop place, email moamonaco[at]gmail.com.
Organized by Mothers of Africa. For more information and reservations email moamonaco[at]gmail.com and visit the organizer's website at: Mothers of Africa.