OPMC: Grigory Sokolov
Venue: Auditorium Rainier III
Piano recital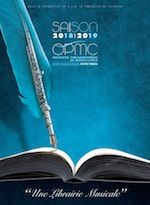 A recital by Grigory Sokolov. Program to be announced.
tickets 25-80 euros
reduced price seats for students
reductions for groups of 10 or more
season tickets available
One of Monte Carlo Philharmonic Orchestra's 2018-2019 Grande Saison series of concerts.
For a full program visit the orchestra's website at: OPMC: nos concerts saison 18/19. For information, reservations and tickets, phone +377 98 06 28 28 and visit the venue ticket office.
Invitation to CREM
Members of the Club des Residents Etrangers de Monaco are invited to attend the 10 March performance.
100 euros pp
only 10 tickets
pre-payment required
For more information and
RSVP before 1 March
, email info[at]crem.mc or phone +377 97 98 01 77.