OPMC: Alchimies
Venue: Auditorium Rainier III
Symphonic concert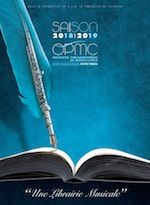 A performance by Monte Carlo Philharmonic Orchestra conducted by Kazuki Yamada and featuring Isabelle Faust on violin, Antoine Tamestit on viola, soprano Regula Muhlemann, baritone Jean-Francois Lapointe, and the Tokyo Philharmonic Choir. The program includes music by Mozart and Faure.
tickets 17-50 euros
reduced price seats for students
reductions for groups of 10 or more
season tickets available
One of Monte Carlo Philharmonic Orchestra's 2018-2019 Grande Saison series of concerts.
Preceding the concert, at 17:00, a French language introduction to the work by Andre Peyregne, Director of the Conservatoire a Rayonnement Regional de Nice. Free entry for ticket holders.
For a full program visit the orchestra's website at: OPMC: nos concerts saison 18/19. For information, reservations and tickets, phone +377 98 06 28 28 and visit the venue ticket office.