Fete Nationale 2019
Venue: Several places in Monaco
Monaco National Day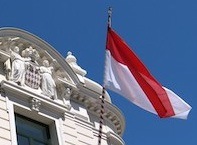 Celebrating Monaco, the Monegasques and their achievements 19 November is a public and school holiday. Official events (to be confirmed):
10:00, Monaco Cathedral, by invitation only, Te Deum Mass performed by musicians of the Monte Carlo Philharmonic Orchestra (OPMC)
after mass, in the Palace, Prince Albert presents medals and honours to the police and palace guards
Place du Palais, the Prince and his family celebrate with Monegasques
Grimaldi Forum, the Prince attends a gala opera performance
Monaco's Fete Nationale has been celebrated since the reign of Prince Charles III in 1857. Originally falling on the saint's day of the reigning prince, Prince Albert II decided to keep the date his father celebrated, Saint Rainier's Day, 19th November.
Events organized by the Mairie
A fireworks display is usually organized in Port Hercule. Free shows for children and adults are organized for Monegasques. Information about obtaining tickets is posted on the Mairie's website at: Fete Nationale 2018. Programme, retrait des invitations et informations pratiques.