ArtMonte Carlo 2019
Venue: Grimaldi Forum
Annual contemporary and modern art salon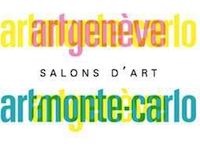 From 26 to 28 April, a salon and exhibition attended by international galleries, and including non-commerical exhibitions. The event provides an opportunity for the PACA region's collectors and art-lovers to discover private and institutional collections from museums, art centres, artists and invited curators.
Fri & Sun, 12:00-20:00
Sat, 12:00-19:00
adults 20 euros, concessions 10 euros, under 6s free
ArtMonte-Carlo developed from the Artgeneve concept organized by Palexpo SA, under the direction of Thomas Hug. For more information contact Thomas Hug, Director of artgeneve, phone +41 22 761 10 57, email thomas.hug[at]palexpo.ch and visit the website at: Art Monte Carlo.