Quand fleurissent les sculptures 2019
Venue: Jardin Exotique
Annual outdoor sculpture exhibition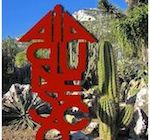 From 24 September to 31 October, an exhibition of sculptures and photographs by artists of the Comité Monégasque de l'Association Internationale des Arts Plastiques (AIAP).
Sculptures are displayed outdoors, in the upper area of the Jardin Exotique, as well as in the Salle Louis Vatrican.
access with entry ticket to Jardin Exotique
Two prizes are awarded during the official opening, the Prix du Maire de Monaco for sculpture, and the prix du Directeur du Jardin Exotique de Monaco for photography.
Organized by the Comite National Monegasque of AIAP - UNESCO. For more information phone +377 93 15 29 80.