OPMC: movie concert Fantasia
Venue: Grimaldi Forum
Film screening with live music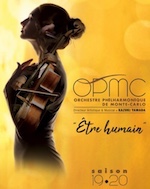 A family concert, including screened extracts from Disney's Fantasia films of 1940 and 2000. Gottfried Rabl conducts the Monte Carlo Philharmonic Orchestra backing music.
A Monte Carlo Philharmonic Orchestra 2019-20 Movie Concert season performance.
tickets 12 euros
un-numbered seats
For a full program visit the orchestra's website at: OPMC: season 19/20 upcoming concerts. For information, reservations and tickets, phone +377 98 06 28 28 and visit the venue ticket office.