Gemlucart 2019
Venue: Auditorium Rainier III
11th edition of art competition raising money for cancer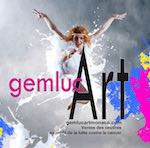 From 17 to 27 September, an exhibition of the GEMLUC International Contemporary Art Competition entries. The theme for 2019 is "Silence, le bruit court" (silence, the noise runs).
Artwork is submitted by painters and sculptors of all nationalities, many who have been touched by cancer.
Organized by the Groupement des Entreprises Monegasques dans la Lutte contre le Cancer (Gemluc). For more information email gemlucart[at]strategemonaco.com, phone +33 607 93 49 09, and visit the event website: GemlucArt.