OPMC: autour de la famille Bach
Venue: Eglise Saint Charles
Spiritual music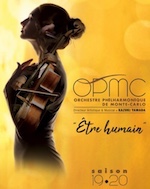 A concert of music written by four members of Johann Sebastian Bach's family, conducted by Peter Szuts, with Delphine Hueber on flute, and musicians of the Monte Carlo Philharmonic Orchestra.
free entry
limited seating
A Monte Carlo Philharmonic Orchestra 2019-20 Spiritual Concert performance.
For a full program visit the orchestra's website at: OPMC: season 19/20 upcoming concerts. For information, reservations and tickets, phone +377 98 06 28 28 and visit the venue ticket office.