Journee Monegasque des Nez Rouges 2019
Venue: Several places in Monaco
Annual charity day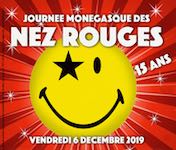 All day, everywhere in Monaco, the Journee Monegasque des Nez Rouges (Monegasque Red Nose Day) coincides with St Nicholas Day, traditionally associated with children. The event raises funds for the Enfants de Frankie organization that helps disadvantaged children in the PACA region. Yellow foam noses for vehicles are sold, price 2 euros from:
Carrefour Monaco and Post Offices in the Principality
n
for bulk purchases phone +377 93 30 08 00
Organized by the Enfants de Frankie. For more information email secretariatfrankie[at]monaco.mc and visit the website at: Les Enfants de Frankie.