Zize, le one miss show
Venue: Theatre des Varietes
French language cafe theatre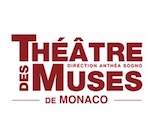 Stand-up comedy with Thierry Wilson as Zize, a larger-than-life character from Marseille.
tickets 26 euros
duration 1h10
suitable for +11s
For more information visit the performer's website at:
Zize Dupanier, les aventures pagnolesques d'une marseillaise
.
Organized by Theatre des Muses. For more information and reservations, phone +377 97 98 10 93, email reservations[at]theatredesmuses.com and visit the venue website at: Theatre des Muses.