L'Arche du coeur soiree 2020
Venue: Theatre des Varietes
Annual fund-raising musical evening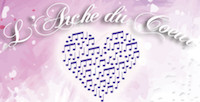 The Concert Amadarche is hosted by Jose Sacre and Lucille l'Herbon de Lussats. The performers include:
composer Marc Giacone
Trima Jazz in Voice trio
bassonist Franck Lavogez of OPMC, pianist Nathalie Setera, clarinettist Marc Cagna Perazzo
the Lyre Roquebrunoise
Quazylis women's choir
The concert aims to promote better understanding of those who suffer from intellectual disability, with the theme of tolerance and living together. Proceeds from the evening are to be donated to the Arche de Jean Vanier in Grasse.
entry 20 euros
phone +377 98 06 28 28 or visit the Casino atrium ticket office
Organized by AMADARCHE (L'Association Monegasque des Amis De l'Arche). For more information phone +377 98 98 83 47 or email larcheducoeur[at]monaco.mc, and visit the organization website at: AMADARCHE.