Mayflower Country Show 2020
Venue: Espace Leo Ferre
Annual fundraising music show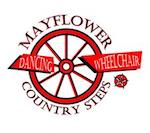 The 10th edition of the Mayflower Country Show celebrates St Patrick's Day with classes for all levels, and a show with choreographer Maggie Gallagher.
tickets 20 to 40 euros
12:00-18:00, classes
19:30, show
dress code St Patrick
Mayflower Country Steps is a country dance federation in the PACA region for able-bodied and those with reduced mobility. The event is raising money for Baisse Pas Les Bras association.
For more information and reservations phone 06 60 18 34 46 and visit the organizer's website at: Mayflower Country Steps.