Herculis Monaco 2020
Venue: Stade Louis II
Annual international athletics competition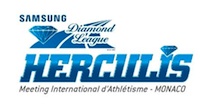 NOTE: Originally scheduled for 10 July, the meeting is postponed until 14 Aug. Details to be confirmed.
The annual Herculis International Athletics Meeting, with 16 events including running, javelin and jumping.
tickets from 10 euros
11 Jul, 19:00, women's triple jump
12 Jul, 19:30, opening event, men's javelin
Printable e-tickets available through the event website at
Herculis ticket sales
.
Herculis has been part of the IAAF Diamond League since 2010 and attracts world class athletes to Monaco.
Organized by the Federation Monegasque d'Athletisme (FMA). For more information phone +377 92 05 42 60 and visit the event website: Herculis Monaco.