New Generation Circus Festival 2012
Venue: Espace Fontvieille
1st competition for young artists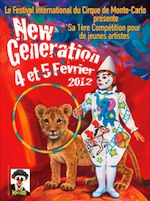 On 4th and 5th February, young acrobats, magicians and animal trainers compete for the Junior d'Or, Junior d'Argent and Junior de Bronze awards. New Generation Monte Carlo fills the gap left by the Premiere Rampe festival, which was dropped 3 years ago due to budget restrictions.
There are 2 shows on 4th February and a third on 5th February, followed by the award ceremony, which closes the festival:
Sat 4 Feb, at 15:00 and 20:00
Sun 5 Feb, at 15:00
Tickets:
All performers are 20 years old or younger. See a full list on the event website: New Generation Circus Festival.