Herculis 2012
Venue: Stade Louis II
International athletics competition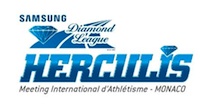 Organized by the Federation Monegasque d'Athletisme, 9th stage of the Samsung Diamond League, and a week before the 2012 Olympics in London. Special guests this year:
Usain Bolt, Jamaican sprinter, triple olympic and world champion, holder of 3 world records
UPDATE: due to muscle strain, Usain Bolt has had to pull out of Herculis
Yelena Isinbaeva, Russian pole vaulter, twice olympic gold medalist, 5-time world champion, current world record holder
Lashawn Merritt, 400 m
Dayron Robles, 110 m hurdles
Andreas Thorkidsen, javelin
Caster Semenya, 800 m
Events start at 19:00 and end with a firework display at 22:05.
For full program visit the event website: Herculis Monaco 2011 Programme.
Tickets 7 to 40 euros, available from the stadium box office. More information +377 92 05 42 60, or from the Herculis Monaco website.