Monte Carlo International Circus Festival 2013
Venue: Espace Fontvieille
37th edition of international circus festival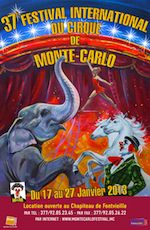 From 17th to 27th January, with traditional and contemporary circus entertainment. The 2013 festival welcomes acts from three countries that haven't previously been represented:
Vietnam, the Jiang Brothers, a hand to hand and head to head balancing duo
Armenia, the Seyraniyan Sisters, contortionists
Cuba, the Circo Nacional De Cuba, two artists who perform acrobatic feats suspended by their hair
Also appearing are:
Spain's Circo Mundial with 5 Indian elephants
Russia's Troupe De Kazan, with 8 jugglers
Kid Bauer and his big cats
Chinese acrobats and jugglers
Koblikov jugglers from Russia
Serguei and Popov, hand to hand balancing from Russia
Cat-Wall trampoline act from Canada
Vote for your favourite act using the form placed on your seat. The act with most votes receives the Prix du Public during the gala evening, and voters are entered into a draw for tickets for the 2014 festival.
Selection Shows
Thu 17 Jan
, 20:00
Fri 18 Jan
, 20:00
Sat 19 Jan
, 20:00
Sun 20 Jan
, 15:00
The gala evening and awards ceremony takes place on Tue 22 Jan at 20:00.
Prize Winners' Shows
Wed 23 Jan
, two shows, 14:30 and 20:30
Thu 24 Jan
, 20:00
Fri 25 Jan
, 20:00
Sat 26 Jan
, two shows, 14:30 and 20:30
Sun 27 Jan
, two shows, 14:00 and 18:30
Tickets from 30 to 150 euros, children up to 12 years from 10 euros. Gala evening prices 35 to 190 euros.
A competition for the best circus themed shop window display is once again being organized by the Union des Commercants et Artisants de Monaco (UCAM). Other circus events, including art exhibitions and parades, taking place during the festival:
18-25 Jan
-
Circus costumes and paintings
18-19 Jan
-
Circus trade exhibition and conference
18 Jan-15 Feb
-
Jean-Luc Thibault exhibition
19 Jan 2013
-
Open Door Circus Show
21 Jan 2013
-
Mass for the circus
21 Jan 2013
-
Barbagiuans versus Circus Artists
2 Feb 2013
-
New Generation Circus Festival
Up to 31st August, buy 2 tickets for the Monte Carlo International Circus Festival and get 1 free ticket for the New Generation Circus Festival.
Reservations and information on +377 92 05 23 45, fax +377 92 05 26 22. Tickets available online from the Circus Festival website, and from the circus tent box Mon-Fri, 10:00-13:00 and 14:00-18:00.