20th annual springtime series of concerts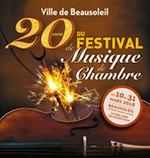 From 10 to 31 March, Beausoleil's Service Culturel is organizing its annual Festival de Musique de Chambre. Concerts take place on Saturday evenings in the Theatre Michel Daner, just a short walk uphill from the centre of Monaco.
Program Overview
Click through for more information.
10 Mar
-
Robert Lehrbaumer piano recital
17 Mar
-
Ensemble Cameristico S Gaggia
24 Mar
-
Passion Classique: Viva Vivaldi
31 Mar
-
Ensemble Les Virtuoses
Concerts are free, however seats are limited and so reservation is advised. If you reserve, you must take your seat 5 minutes before the performance begins, otherwise the places will be re-allocated.
For more information about the Festival de Musique de Chambre, and to reserve a seat, phone +33 04 93 78 90 80 or email culturel[at]villedebeausoleil.fr. For a full program, visit the organizer's website at: Beausoleil Town.