New owners, new chef.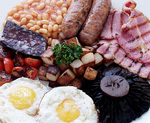 It's just over a year since the Columbus Hotel was bought by London & Regional and things have started to change. Following the departure of Laurent Sturbois for A'Trego (see our 21st April What's On guide), the hotel's Brasserie restaurant has a new chef. Xavier Burelle has trained with Ducasse and Robuchon among others, and worked in some of the grandest hotels such as Cap Eden Roc, Georges V, and Negresco in neighbouring Nice. Fans of the cooked breakfast have reason to be pleased as Chef Burelle has made changes to the breakfast buffet menu, from which you can now choose a full English style meal with scrambled eggs, roast tomatoes, bacon and sausages.
But it's not just the Columbus' food that's gone through a transformation. Public spaces have been re-decorated and bedrooms have been furnished with LCD screens and free internet access. Business clients of the conference theatre and meeting rooms will also notice new furniture.
Watch out for more new features at the hotel, and if you try the full English breakfast before us, let us know what you think.
(PhotoSource: http://www.flickr.com/photos/markdodds/82132809/)