Fete Nationale 2017
Venue: Several places in Monaco
Monaco National Day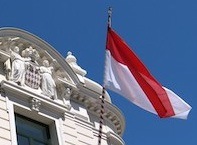 Celebrating Monaco, the Monegasques and their achievements. The holiday is usually celebrated on 19 November, but since this falls on a Sunday, the occasion is celebrated the following Monday. Official events:
10:00, Monaco Cathedral, by invitation only, Te Deum Mass performed by musicians of the Monte Carlo Philharmonic Orchestra (OPMC)
after mass, in the Palace, Prince Albert presents medals and honours to the police and palace guards
Place du Palais, the Prince and his family celebrate with Monegasques
Monaco's Fete Nationale has been celebrated since the reign of Prince Charles III in 1857. Originally falling on the saint's day of the reigning prince, Prince Albert II decided to keep the date his father celebrated, Saint Rainier's Day, 19th November.
Related events
15 Nov
-
Aldebert: Enfantillages 3
18 Nov
- fireworks at Port Hercule, 20:00
18 Nov
-
Allan Dickens: spectacle d'illusions
19 Nov
-
Allan Dickens: spectacle d'illusions
19 Nov
-
Opera: Adriana Lecouvreur gala