Traditional events, parties and activities.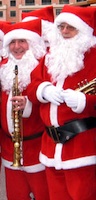 Here at maBoum, we hope to make your Christmas planning a little easier, with our annual handy list of Christmas events taking place in Monte Carlo and Monaco. With concerts of traditional music, festive parties and the annual Christmas market, there's entertainment for everyone.
For those who are planning to celebrate New Year in Monaco, we have a separate listing of dinners, parties and shows taking place on New Year's Eve which we regularly update. Check out the deals here: Celebrating the arrival of 2015 in Monaco.
Check back regularly for updates as organizers tell us about their events.
Events for kids and teens
10 Dec
-
Christmas Decorations Workshop
10 Dec
-
Noel de Frankie
14 Dec
-
E Cubaiche
20 Dec
-
Magic Circus on Ice
22 Dec
-
So Fresh Christmas Party
Gifts and shopping
24 Nov-24 Dec
-
Christmas Shopping @ Metropole
5 Dec-4 Jan
-
Monaco Christmas Village
6 Dec
-
Christmas Ecumenical Kermesse
11 Dec 2014
-
Mission Enfance Braderie de Noel
13-14 Dec
-
BAM Christmas Fair
17-28 Dec
-
Father Christmas maiden flights
Religious observances
14 Dec
-
Children's Nativity Play
14 Dec
-
Christmas Concert
14 Dec
-
Christmas Carol Service
24 Dec
-
Children's Christingle Service
24 Dec
-
Christmas Vigil
25 Dec
-
Family Christmas Service
Other events
21 Nov-6 Jan
-
Monaco Christmas Lights
5 Dec
-
Club Vivanova Christmas Wine Party
6 Dec
-
Casino Square Christmas lights switched on
8 Dec-11 Jan
-
Chemin des Creches
10 Dec
-
Christmas happy cocktail
10 Dec
-
Virtuosi Children Christmas Concert 2014
12 Dec
-
Festive cooking and wellness day
13 Dec
-
Russian Christmas Concert
16 Dec
-
Action Innocence Christmas Trees
19 Dec
-
Buches de Noel
19 Dec
-
Kovaine and Mister Noise
21 Dec
-
Christmas Concert
26 Dec-4 Jan
-
Casino Square parties
Events to be confirmed
ISM Christmas sale
14-31 Dec - Blvd des Moulins shopping entertainment
School holiday activities at Oceanographic Museum
Christmas concert at Monaco Cathedral
Hotel Holiday Events
20-24 Dec
-
Christmas afternoon tea
@ Hermitage
24 Dec
-
128 euros 4-course menu
@ Hermitage
25 Dec
-
140 euros brunch buffet
@ Hermitage
25 Dec
-
149 euros lunch buffet incl. wine and music
@ Salle Empire