Celebrate with Sunday lunch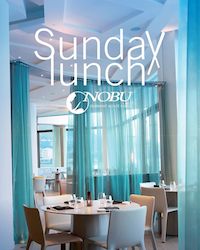 It's a year since Chef Nobu Matsuhisa opened his eponymous restaurant in the Fairmont Monte Carlo. To mark the occasion, the Japanese chain is introducing a Sunday lunch deal.
Nobu first popped up in Monaco during Grand Prix 2013, enticing race-goers with its combination of traditional Japanese cuisine and subtle South American flavours. Later the same year, the Fairmont's Argentin beef restaurant closed its doors permanently, and Nobu moved in.
In December 2014, Nobu introduced its aperitif concept Seven to Nine (see our 4 Dec newsletter) and on 11th January, managers launched the Nobu Sunday Lunch. Food is served from 12:30 to 16:00 and includes unlimited champagne for adults and a dedicated area for children.
prices from 79 euros for the Omakase menu
children's Okosama Bento Box 29 euros
For more information and reservations phone +377 97 70 70 97 and email nobu[at]fairmont.