2017-2018 season takes a musical tour of the world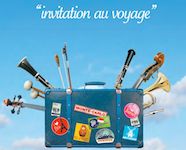 Monte Carlo Philharmonic Orchestra visits the four corners of the earth through music in its 2017-2018 season, from the Baltic to Spain, through Russia and the Americas, taking in mountains, forests, the sky and the seas.
Following his first season in 2016-2017, musical director and conductor Kazuki Yamada has created an "artist in residence" position. Harpist Xavier de Maistre has taken on the role, and features in several performances.
This season also marks the anniversaries of three great musicians for which the OPMC is performing musical tributes: Ravel, who died 80 years ago, Debussy, who died 100 years ago, and Leonard Bernstein, who would have been celebrating his 100th birthday in 2018.
During December the orchestra is traveling to Paris, and during July and August 2018 the musicians are performing in the Palace courtyard, as they do every summer. We'll be listing those concerts closer to the time.
We've listed an outline of the program below and you can click through for more detailed information. Tickets for most performances cost from 17 to 50 euros, with reductions for students and groups. They are available from the Monte Carlo Casino atrium box office, Tue to Sat, 10:00 to 17:30. You can also phone +377 98 06 28 28 and email atrium[at]opmc.mc. The Grimaldi Forum box office, open Tue to Sat, 12:00 to 19:00, also sells tickets, but only for performances at the Grimaldi Forum.
22 Sep
-
OPMC: Images
24 Sep
-
OPMC: Animaux en folie
27 Sep
-
OPMC: Quatuor Eos
28 Sep
-
OPMC: Trio Goldberg
1 Oct
-
OPMC: Russie eternelle
1 Oct
-
OPMC: Russie eternelle
8 Oct
-
OPMC: Grandissime
13 Oct
-
OPMC: Bell, Belle
22 Oct
-
OPMC: Lumieres celestes
27 Oct
-
OPMC: Sur la Baltique
5 Nov
-
OPMC: Musique francaise
10 Nov
-
OPMC: Piano recital
12 Nov
-
OPMC: Les Aventures de Charlot
15 Nov
-
OPMC: Quatuor Monoikos
22 Nov
-
OPMC: La musique, pas a pas
29 Nov
-
OPMC: Orchestre de poche
10 Dec
-
OPMC: Coup de foudre
15 Dec
-
OPMC: Aurore boreale
17 Dec
-
OPMC: Concert de Noel
9 Jan
-
OPMC: Musique de chambre
21 Jan
-
OPMC: La Petite sirene
24 Jan
-
OPMC: Les Tableaux d'une exposition
4 Feb
-
OPMC: Pastoral
6 Feb
-
OPMC: Musique de chambre
18 Feb
-
OPMC: Carte blanche a Xavier de Maistre
18 Feb
-
OPMC: Carte blanche a Xavier de Maistre
4 Mar
-
OPMC: Printanier
9 Mar
-
OPMC: Titanesque
11 Mar
-
OPMC: Hautbois enchante
24 Mar
-
OPMC: Printemps des Arts
8 Apr
-
OPMC: Printemps des Arts
12 Apr
-
OPMC: Musique de chambre
29 Apr
-
OPMC: Stabat Mater
8 Jun
-
OPMC: Mare Nostrum
15 Jun
-
OPMC: Les Ameriques
19 Jun
-
OPMC: Take Eight